This store in Geneva gives
Filipinos a taste of home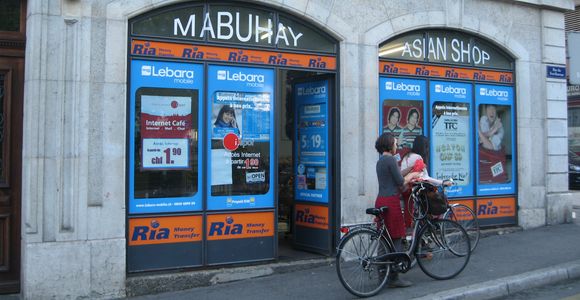 Overseas Filipino Workers (OFWs) and immigrants in Geneva, Switzerland get a taste of home just a train ride away. You would know the store by word of mouth, or you cannot ignore its huge name while passing by. It is a block away from the city main train station.
The Mabuhay Asian Shop in Rue de Fort-Barreau provides fresh vegetables such as malunggay (moringa) and kalunay (spinach) to our kababayans here.
These Pinoy veggies sell fast. You have to come here early on Tuesdays to get a share of these. I went there one Tuesday afternoon and there were no veggies left. You cannot find them on any other day.
But veggies are not the only best sellers. Philippine brands of canned goods, instant noodles, condiments and Goldilocks products have their own loyal buyers, too.
And the familiar walis tambo (soft broom) and walis tingting (stick broom) refuse to be left behind.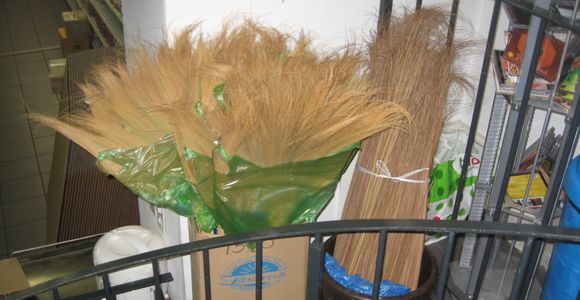 The Filipino Channel (TFC) dealer 
Do you miss TV programs from ABS-CBN? TFC brings your favorite TV programs right to your home. Not only that.
You can choose to watch which program in your own time. Some OFWs watch their favorite teleserye or showbiz programs together on weekend during their rest day.

TFC also brings you ABS CBN news and Philippine news updates. You can watch the morning news at the comfort of your own time. Philippine celebrity news provides fun and intrigue in an otherwise dull moment. Philippine local news keeps you up to date to what's happening here.

Subscribe to TFC from Mabuhay to watch ABS-CBN TV programs and Philippine news updates. The store is the TFC dealer in the French Region of Geneva. You can choose your subscription in monthly or annual payment. If you pay annual, you get two months free. "Your subscription becomes active in 1-2 hours," said store owner Helen Barroga-Brunner.
Sending money to the Philippines 
Are you looking for a way to send money to the Philippines? This Filipino store in Geneva provides safe and fast remittance to your loved ones. The money deposits in one day to major banks in the Philippines - Banco De Oro (BDO), BPI, Land Bank and Metrobank. Other banks receive the money in three days.
Sending money is cheap. It costs 5 Swiss Francs (CHF) to send 500 CHF, 9 for 1,000 CHF. You can send up to 5,000 CHF in 30 or 90 days. The limit proves that you are an OFW and not someone else pretending to be poor. The Swiss government requires it to check the outflow of money.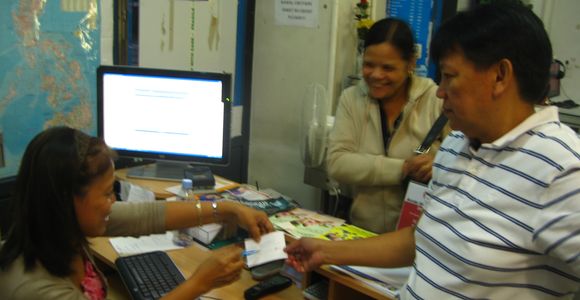 Helen (left) hands a form for sending money to the Philippines to Mariam (right),
while another OFW looks on.
Fill up a form or give your personal details with your passport or ID for your first remittance. Sending money after that is a breeze. You only need to show your ID or passport to retrieve your record and your recipients.

The remittance service is backed by Ria Financial Services, one of the largest money transfer companies in the world. It has a global agent network of 155,000 locations in 136 countries on 6 continents.
Other services to Filipinos in Geneva
Giving pasalubong or gifts is a unique Pinoy trait, sometimes even at fault. OFWs have always something for their relatives and friends in the Philippines. The store sends balikbayan boxes to the Philippines once a week by plane, once a month by ship.

Mabuhay Asian Shop has a few computer units with internet that you can use in case your PC breaks down, for a fee of course. E-loads for your Philippine cell phone number are available. The store also accepts SSS and Pag IBIG payments. What else could you ask for? It's like a one-stop shop that brings you closer to home!

Are you looking for a job or a person to do some tasks? Go to the store and ask around or leave what you need there. Domestic work is in demand in Geneva but you may find related jobs such as house repairs, and much more. Don't worry. This service is free.
This article shares the stories of Filipino domestic workers in Geneva.
Read job options for Filipinos in Switzerland here.
The store started as a hobby. Helen liked to get and watch VHS tapes from the Philippines when she first came here. Her friends learned about her collection of movies and they began borrowing her tapes. That's when she realized to rent the tapes. Her hobby grew to what is now the Filipino store in Geneva - where OFWs and immigrants feel closer to home.
Address and contact information
21 Rue de Fort-Barreau, 1201 Geneve
Tel.: 022 740 2510; Fax: 022 740 2977
Email: mabuhay_gva[at]yahoo[dot]com
Store hours: 11 am to 8pm, Tuesday to Sunday
Overseas Filipinos
›
OFWs in Geneva
› Filipino Store
Like this page?