This Manila House for sale
could be your dream home!

A bargain Manila house for sale does not come often. Manila real estate is pricey but this house and lot for sale is a real bargain at 4.7 Million Pesos! Worth P5.5M, this could be your dream home as an OFW or Filipino immigrant. How does it feel to give your family the home they deserve? But not for long because the owner badly needs money!
Site development map
Photo credit: camellahomes.net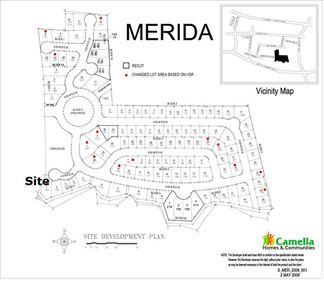 This two-storey Manila house stands on a corner lot with an area of 192 square meters.
It is beside the clubhouse, the community swimming pool and several ballparks.
These add open spaces adjacent to the house!

The lot is big enough for a nipa hut and a vegetable garden in the backyard. You can use the nipa to bond with your family.
View with the fenced front yard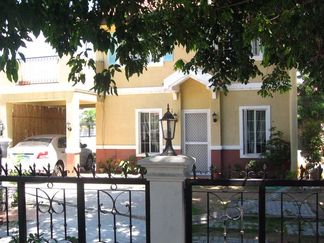 The fenced open space in the front yard can be a good playground for kids.
You can watch them enjoy the surroundings through the living room windows.



Other features and benefits of this Manila house for sale
The 140 square meters floor area is ideal for a growing family. A master's bedroom (BR) with its own toilet and bath (TB) and 2 BR/1 TB are on the second floor. This set up gives you more chances to spend bedtime stories with your kids!
View of the swimming pool
and club house from the balcony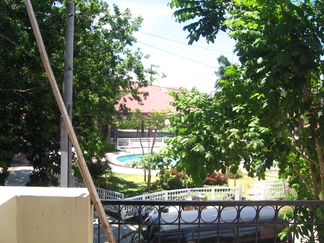 Or enjoy the relaxing atmosphere from the balcony adjacent to the master's bedroom.
Below the balcony is the car port.
Kitchen view from the living/dining area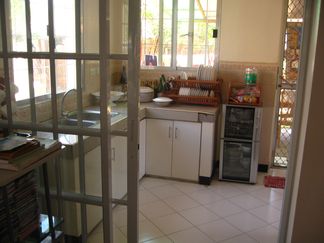 Aside from 2 TB and a maid's quarter, the first floor has the dining/living area and kitchen.
Service area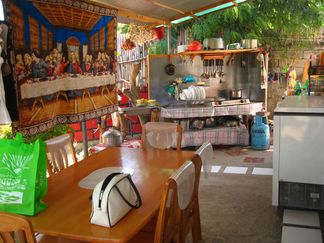 The kitchen door leads to the service area where you can extend your kitchen and do your laundry or set up the dining area.

This 3-year old Manila property comes semi-furnished and built-in cabinets in the rooms. The owner is giving away the air-con units in the three bedrooms and the split type A/C in the dining/living area. You will also get the living room cabinet and the sala set for free! Isn't that amazing to save money further on these?


Location of this Manila house for sale
Location must top all other factors when buying your home. That's why living in Manila has its advantages. Modern living provides almost everything within reach. You get to the best places in no time and avail of basic goods and services in minutes.
Las Pinas area is in the middle of growth areas in Metro Manila, Laguna and Cavite. It is close enough to Makati and Alabang Business Center for modern lifestyle and urban living. And it takes an hour or two to visit Tagaytay for the cool breeze or beaches in Batangas for diving and leisure.
Vicinity map
Photo credit: camellahomes.net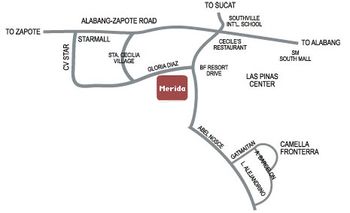 In the middle of Las Pinas nestles classy Merida Subdivision in BF Resort Village, location of this Manila house and lot for sale.
Merida is in the center of everything within easy reach. Schools, hospitals, shopping centers and churches are just a short drive.


Street view of the Manila house for sale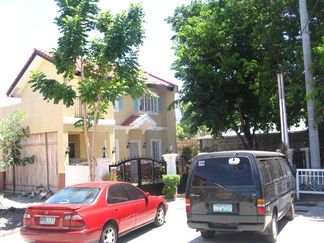 This house is definitely a good buy. There is no need to rent a Makati apartment because you can go there in less than an hour.
Compared to Makati condominiums for sale, getting this property in Las Pinas is still your best option.


See more pictures through this slide. Click the slide once, then point your cursor to a picture to stop the slide and read the caption.
The price offer is until June 26 because the owner needs cash. If it is not sold after that, you may get it at lower price. Please use the form below to contact us.
3BR/4TB, master's BR w/ TB
Maid's quarter, service area
LA 192 sqm, FA 140 sqm, car port
Blk 5 Lot 1, Merida Subd., BF Resort Village
Las Pinas City
Make your dream come true with this Manila house for sale...



---
Questions about this Manila house for sale
Click on the links below to see other visitors' questions about this house for sale.

Manila house for sale - how much?
I'm interested about this Manila house for sale. Please email, text or ym me (contact info not visible to visitors). Thanks. Dom's Reply: Selling …
Return from This Manila House For Sale Could Be Your Dream Home! to For Sale Houses In Manila And Nearby Areas

Return from This Manila House For Sale Could Be Your Dream Home! to Overseas Filipinos home