Mar Roxas platform for OFWs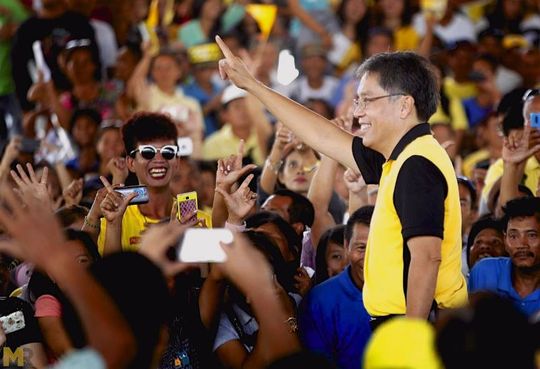 Photo credit: Mar Roxas Official Facebook Page
Mar Roxas platform for Overseas Filipino Workers like you anchors on creating a strong economy. A quote from his speech in Hong Kong told his plans to build a First World Society. This is the core of his campaign. A strong economy will provide OFWs with two major benefits.
First, it will create more jobs. If you have more job choices, you will not be forced to leave and work abroad. Working abroad should be a choice and not a necessity. (This is a favorite pitch during this coming election.) He should know. His background and achievements include running the Department of Trade and Industry (DTI) and being a Senator. 
Second, economic growth will help you go back home. You do not have to live apart from your family. You can provide for your loved ones and give your children a brighter future because of available jobs in the country. 

Your absentee voting ballots can push Mar Roxas to work on all these. The absentee voting law gives you the power to choose and helps elect a leader. So despite controversies hounding him, here are his specific plans on your issues and concerns. 
Mar Roxas platform to protect OFWs
Illegal recruitment. Mar Roxas plans to build OFW Resource Centers in all local government units (LGUs), meaning the towns and provinces. These centers will provide data on recruitment agencies with valid papers. He wants the law enforced with heavier penalties for illegal recruiters.

Read the 10 tips to avoid illegal recruitment here.
Employer abuse. Mar Roxas wants swift legal assistance to OFWs who are in conflict with the law. He will enhance the capacity of the foreign service corps. This will help them better respond to OFW needs. Repatriated overseas workers will receive holistic help.

Labor centers. He will give ample support to labor centers abroad to better respond to your needs. He plans to tap LGUs for improved education campaign. You can get relevant information on working abroad in your own town.
Mar Roxas platform to treat OFWs fairly
High placement fee. Mar Roxas will negotiate with receiving countries to lower or waive placement fees. He will propose payment of fees in tranches. This will allow you to immediately start work and not be delayed by placement fee concerns.

Corruption at the airports. Mar Roxas aims for quick investigation and conviction of guilty personnel. Regular performance evaluation of airport officials and staff will be put in place. As well as merit and values based hiring process.

Tax and balikbayan boxes. Mar Roxas plans to get rid of the documentary stamp tax on your OFW remittances to the Philippines. He will set aside a portion of the money and fees collected from you to support mainly those in prison or facing cases abroad. He also wants to review current rules on balikbayan box inspection to protect the boxes.

All these plans are not exactly groundbreaking. Based on Mar's past work record and profile, his ability to achieve is almost equal to his chances of failing. We can only see the results if he wins. Do you believe Mar Roxas platform for OFWs is worth your absentee voting ballot? 
Overseas Filipinos
›
Election in the Philippines
› Mar Roxas
Like this page?