Facts About Taiwan For OFWs 
Joining the Filipino diaspora in Taiwan would change your life. Knowing some facts about Taiwan help you decide or adjust to your new home. These include Taiwan jobs, issues faced by OFWs, the way of life of Taiwan people and other relevant Taiwan facts.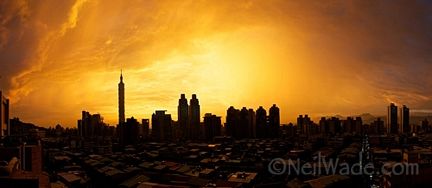 Sunset over the Taipei, Taiwan skyline. Copyright Neil Wade.
"Where is Taiwan?" You may ask. The answer lies in the prospect of a better-paying job. OFW college graduates will keep on going there even for jobs different from their education and training.

That is more job choices for some and raises the prospect of abuse for others. You decide what it is for you.

Taiwan's economy is export-driven. Most of its exports are high-tech computer parts and electronics such as cell phones and LCD panels.

Improved living standards, capital and technology intensive industries opened the gates for OFWs, both legal and illegal.
Facts about Taiwan jobs

Taiwan is gaining from the recovery of the world economy. The growing exports of cell phones, flat screens, computer chips and other electronics goods need factory workers in the electronics industry. Thousands of jobs await Filipino workers.

GMA 7 Ivan Mayrina with AcBel Polytech OFWs.Photo credit: judearcelo1971 youtube image

Caregivers are in demand and Taiwan has been the top destination of OFW caregivers since 2003. They are also domestic workers because they live with the families they work for.




And here lies the problems. Sometimes this does not contrast the job of a caregiver with that of a domestic worker. This would change as Taiwan will pilot test rules on the dispatch of foreign home-care workers or now health caretakers in mid-2011.
If this pushes through, you will not be required to "live in" and will provide caretaking services only.

Other Taiwan jobs include teaching English, nursing jobs and working in merchant or fishing vessels. Please click here on how to look for jobs at the POEA website. Be sure to check the job orders and the agencies placing the job orders with the POEA.
Facts about Taiwan: issues faced by OFWs
It is one thing to have a job but another thing how to be treated on that job. Domestic workers, caregivers and stay-in caretakers are not covered by labor standards. They have no overtime pay and no day off per week unlike other foreign workers. In this case, Taiwan is similar to Saudi Arabia, United Arab Emirates, Qatar and Kuwait in the Middle East.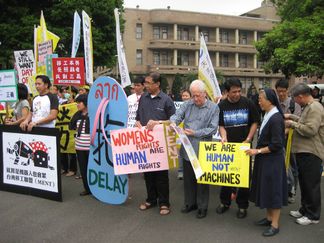 Caritas Taiwan in a protest for migrant workers. Photo credit: Caritas
Placement fee of P50,000 to P150,000 or more is much higher than what the law allows. Foreign brokers' fees inflate the amount.

Brokers charge high fees because Taiwan and the Philippines have not required employers to pay for recruitment costs. And brokers still collect "service charges" from OFWs every month.
Thinking of running away from your employer? Think again! The government spends more time catching migrant workers who abscond and deport them.

Taiwan Council on Labor Affairs (CLA) plans to pass a law giving rewards to citizens who catch "runaway" migrant workers and turn them in. This will turn people against people, even OFWs against one another!

Finding reasons why workers abscond seems farfetched. Workers spend time and money going to work in Taiwan. Their families rely on them. Why would they risk getting caught and deported? For some 30,000 runaway migrants, things must be really bad.

Other facts about Taiwan
The weather in Taiwan is different because of summer, winter, fall and spring. But there is no snow in winter, only chilly wind. Only three to four typhoons visit Taiwan every year but they often bring floods and fell trees. Taiwan is also prone to strong earthquakes.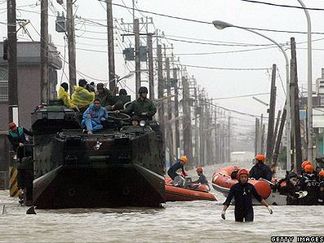 Taiwan's army moving people out of flooded areas during typhoon Morakot in August 2009.
Taiwan culture is mixed. Mandarin Chinese is taught in schools but spoken language is split between Mandarin and Taiwanese.
Karaoke and convenience stores are popular. Taiwan holds the world's highest density of 7-Elevens per person.

Buddhism is the most popular Taiwan religion. But people also practice Taoism, Catholicism, Protestantism and other beliefs.

You can find churches there. And Catholic Caritas is very active in helping OFWs and other migrant workers.

Progress in Taiwan will always attract a part of the Filipino diaspora for the prospect of a better future. You decide whether the place is right for you. The above facts about Taiwan give you an idea on living and working there.
Like this page?