Send Money Through Western Union Philippines
Western Union Philippines is good for Overseas Filipino Workers (OFWs), immigrants or other people. You can send money fast or transfer money instantly, in minutes! Western Union history of 150 years makes it a leader in global money transfer business.
There are more than 330,000 Western Union offices and agents in over 200 countries. This vast network makes a Western Union international money transfer to the Philippines just around the corner. The more than 7,300 money transfer locations allow money pick up in almost every place.
A money transfer agent nearby lets your recipient picks up the money anytime. It could be in a bank, pawnshop, drug store, grocery store. A 24 hour western union agent may make it better.

Western Union Philippines: How to send money
"How can I send money?" you may ask. It is simple to send money in person. Use the Western Union locator to find an agent near you. You can find it at the Western Union website www.westernunion.ph...
Click the Find An Agent link at the upper right hand corner of the website. Filling up the form will find a Western Union location near you.
You can look for Western Union Seattle in Washington D.C., USA, Western Union Toronto in Ontario, Canada or other places using the form.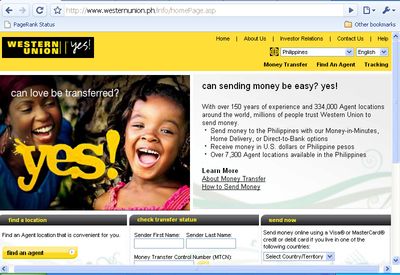 Western Union Philippines website, www.westernunion.ph
Complete the "To Send Money" form and show a valid ID card. Give your payment then sign and receive your receipt with the Money Transfer Control Number (MTCN).

You need the MTCN to track the status of your money transfer online.

You may also send money via credit card or make a debit card money transfer at the website. Click Select Country/Territory at the lower right hand corner if you live in...
Australia
Austria
Belgium
Canada
Denmark
Estonia
Finland
France
Germany
Ireland
Italy
Luxemburg

Netherlands
New Zealand
Norway
Poland
Portugal
Spain
Sweden
Switzerland
United Kingdom
United States
If you are in the UK and would like to send money to the Philippines through Western Union online, go to Western Union UK website by clicking here.

Caution: Beware of Western Union scams before sending money. You cannot take your money back once you sent it!
Western Union Philippines: How to pick up money
Money is ready in minutes. Give the MTCN to your recipient. You can also track the status of your money transfer online through Tracking or check transfer status at the Western Union website.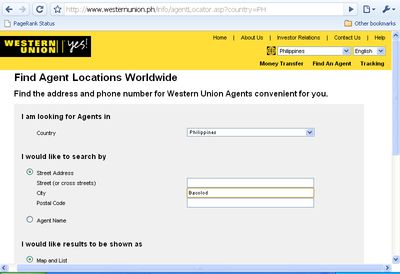 Western Union locator for agents in the Philippines
Use the Western Union locator Find An Agent link in the website for agents near your recipient. Give more than one agent so they could choose who has the good exchange rate. This will also find out the allowed currency payout - Peso, US Dollar, others - from the agent.

The receiver must complete the "To Receive Money" form with the MTCN and a valid photo ID - passport, company ID and so on. They must review and sign the receipt before getting the money transfer.

Western Union Philippines and Western Union fees

The sender pay charges when sending money. At pick up, the law requires payment of Documentary Stamp Tax (DST) on all money transfers from abroad. DST is P0.30 for every P200.00 or 0.15% of the principal amount to be received.

Update: R.A. 10022, the law amending the Migrants Workers and Overseas Filipinos Act, exempts the payment of DST upon showing of the OEC or valid OWWA Membership Certificate by your recipient.
Another factor is the Peso rate. Advise your recipient to check more than one agent because the PHP to USD (Peso to US Dollar) and other rates vary. This will affect the amount to be received.

For more Western Union information, you can call these Western Union phone numbers in the Philippines for your questions:
02 888-1200 for calls from outside Metro Manila

1-800-1-888-1200 toll-free nationwide via PLDT Lines

1-800-9-888-1200 toll-free nationwide via Globe Lines

+632 888-1200 for calls from overseas
This is not the cheapest way to send money. But the prepaid card adds ease and comfort in sending money online. And Western Union Philippines allows you to send money fast or transfer money instantly.

Return from Western Union Philippines to Sending Money To The Philippines
Return to Overseas Filipinos home
Like this page?