Sending Money to the Philippines from the
United Kingdom and Around the World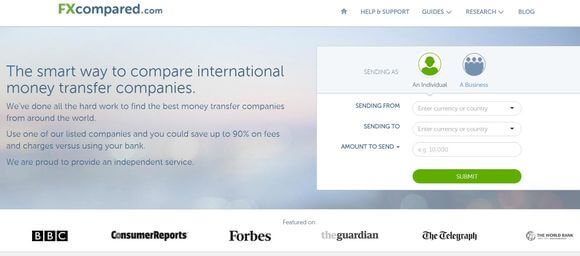 How to make sending money to the Philippines easier for Overseas Filipinos? When you can compare the services of international money transfer companies in one place. That's right. I found a website that does just that. It is based in the United Kingdom and started by the UK government to help its migrant workers on how to send money overseas from the UK. 

The website compares the money transfer services available in your host country. Fees, exchange rates, speed and method of transfer allow you to choose the right service.
Online money transfer services let you transfer money to the Philippines without leaving home. Internet money transfer sends money with ease and comfort.
You can always shop around to get the best deal for your money. But doing the shopping in one website tops it all. It saves you time and secures your money.
The money transfer companies listed on the site comply with government rules in the country they operate.
Sending money to the Philippines through this website
Go to FXcompared.com to follow these steps. You will go to the page shown above. It opens in another window so you can come back here. 
You need to select the country to send money from, in this case the United Kingdom, and Philippines as destination. Enter the amount to send in your local currency. Once you click Submit you will see a list of money transfer companies to choose from, like this...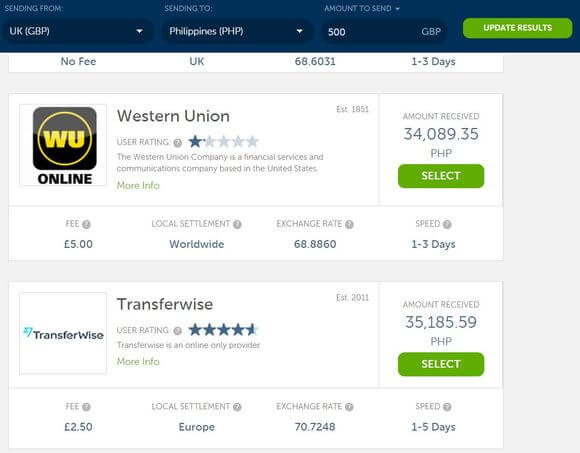 Check the fee, exchange rate, speed of money transfer and amount received to select a company and go to the company's website. Check the website and decide if it will satisfy your money transfer needs. You can always check the other companies. You need to signup for using the service the first time. Next transfers will only require you to login to use the service. 
Some companies do not charge fees. In this case, you may want to look at the exchange rate and the amount received. TransferWise offers the best exchange rate and the amount received provides the cheapest way to send money to the Philippines. Transfer can take up to 5 days, though. Read here about my review of Transferwise.
Change the location and click Update Results. Money transfer from France also shows TransferWise as sending the most amount of money to the Philippines. Money transfer from Canada shows only two companies for sending CAD 500.
Some money transfer companies do not provide services for lower amounts. Try increasing the sending amount to see more companies to choose from. 
Other tips for sending money to the Philippines
The website provides useful tips on how to transfer money overseas. For example, if you send money on a regular basis, click Guides, choose Individual Transfers, then click Regular Payments. Advice includes mortgage payments, living expenses, pension transfers and family assistance.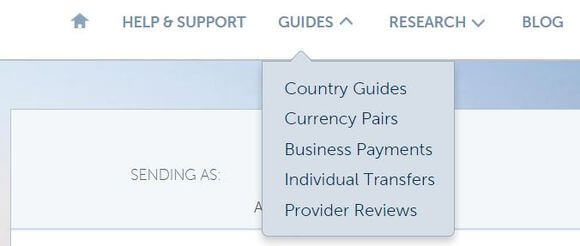 The Individual Transfers page also has the following tabs:

These tabs direct you to more help and advice pages. The FAQs page answers frequently asked questions about using FXcompared.com website. Top ten questions and security FAQs feature on this page. This page is helpful if something goes wrong while sending money.
The Provider Reviews provides reviews of money transfer agencies listed on FXcompared.com. Read the reviews to help you decide which company to use. A money transfer service should meet your and your family's needs. It is better to choose wisely now than regret later.
FXcompared.com list of countries to send money from is not exhaustive but it provides a quick and easy way of comparing international money transfer companies. It makes it easier for Overseas Filipinos to find better ways of sending money to the Philippines.
Like this page?