Facts on Malaysia for OFWs
The Petronas Twin Towers in Kuala Lumpur, Malaysia
Facts on Malaysia give Overseas Filipinos Workers an idea on how it is like to work and live there. These include jobs for Filipinos, the risk of being lured into prostitution and other relevant Malaysia facts.

This page will help you decide whether to go there or adjust to your new home. The country is like the Philippines in some aspects, but Malaysia culture and way of life is not the same. Certain segments of the population are Muslims, Christians, Buddhists, Taoists and Hindus.
"Where is Malaysia and why Filipinos go there?" you may ask. The answer lies in the desire to look for better jobs.

College graduate domestic workers, professionals and undocumented Filipinos will keep on going there. OFWs fill the shortage of skills needed by Malaysian employers.

Facts on Malaysia: Jobs for Filipino
Filipinos in Sabah, part of Malaysia island Borneo, work mostly in fishing, construction and plantation. Some 500,000 undocumented Filipinos are in Sabah mainly because of its proximity to and historic ties with the Philippines. The Philippines has a claim to Sabah.

Aerial view of Kota Kinabalu City, Sabah Photo credit: Flanegan/en.wikipedia.org
Other OFWs in Malaysia work as domestic workers. The minimum wage for Filipino domestic workers is 1,200 ringgits or 16,200 pesos a month. This is higher than most office workers, teachers and nurses receive in the Philippines.
A standard contract lays down the minimum wage, working hours, living conditions and days leave. The contract does not apply to Indonesians who make up 95% of domestic workers in Malaysia. They receive 450 to 500 ringgits only and have no days off.
Malaysia's strong business sector requires engineers, IT specialists and managers. The oil and gas industry needs engineers because locals prefer to work in the United Kingdom (UK) and in the Middle East. Read here to find out more jobs in Malaysia at the POEA website.

Facts on Malaysia Prostitution
Not all female OFWs end up working in their jobs. Sweet-talking recruiters lure women to work in restaurants, karaoke bars and night clubs or as domestic workers. They promise unusually high pay for working in Malaysia. The usual exit points are Clark airport and Zamboanga port.

Sandakan City, Sabah Photo credit: Kawaputra/en.wikipedia.org
The usual destination is Sabah where women are sold to brothels or forced into prostitution upon arrival.

Victims are locked up and made to take 4 to 8 or more male clients a night. They are virtually sex slaves in prostitution dens.

This problem of human trafficking in Malaysia needs your help. You may know stories of victims or Filipinos recruited as mentioned earlier.

Inform POEA about this or share the story here on this form below. Sharing the information will warn others and put people on guard.
Other Facts on Malaysia
The capital of Malaysia is Kuala Lumpur. It is the country's largest city and the center of Malaysia culture. Old and modern tall buildings fill its skyline. It houses the tallest twin buildings in the world, the Petronas Twin Towers.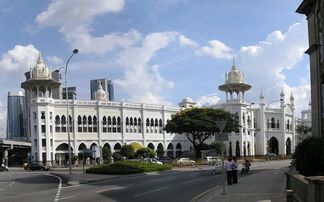 Kuala Lumpur Railway Station Photo credit: Gryffindor/en.wikipedia.org
Islam is the main Malaysia religion but freedom of worship is allowed. All major religious festival days of Muslims, Buddhists, Hindus, and Christians are public holidays.
But Islamic conservatism is feared rising as shown by the clamping down on rarely enforced laws banning alcohol and sex out of wedlock.

The currency or money of Malaysia is the Ringgit. Its value to the US Dollar fluctuates because of the floating exchange rate. Its rate to the Philippine Peso also varies because of many factors. And it is good if you get higher peso rate.

Being an OFW in a strange land is a challenge. It can make you homesick. These facts on Malaysia will help you decide to go there, or adjust to your new home.
Share your Filipino in Malaysia story
Share how did you go there as an Overseas Filipino Worker, what's your work, or anything that you like about Malaysia. Or the story could be about a family member or a friend.
Filipino stories in Malaysia
Click on the links below to read about other visitors' Filipino stories in Malaysia.
Like this page?