Condominiums In Manila:
Mid-Rise Condo In Quezon City
Move In Within 30 Days At A Reasonable Price
Some condominiums in Manila take longer to move in but this condo allows you to do that within 30 days. Moving in is even earlier if you choose a finished unit. This is good for Overseas Filipinos. You can use the unit earlier for your stay in the Philippines.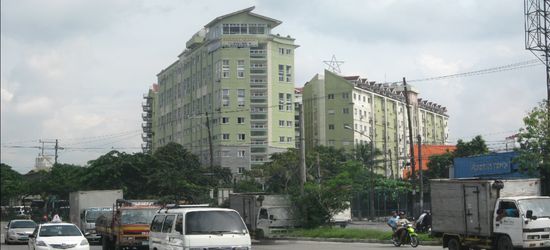 Condominium buildings 1 (right) and 3 (left). Building 2 is in the middle (hidden).
This is RFO or Ready For Occupancy. The developer will use the 30-day move-in period to "finish" the unit.
This includes partition walls and doors for units with rooms, painted wall and ceiling, tiled toilet and bath, tiled floor, kitchen cabinets and even compact fluorescent lights!
You can choose the colors of the cabinets, walls and tiles.
This Manila condo is very close to two big malls in Quezon City - SM North EDSA and Trinoma. It takes about 20 minutes to go there.
When you are that close to the mall, you can get almost anything. The nearby MRT North Avenue station gets you faster to other places in Manila.
Mid-rise condominiums in Manila for unique lifestyle
Unlike high-rise buildings, mid-rise condos do not offer better views from higher floors. But since the condo buildings are the tallest in the area, you have clear view of the environs, unless your unit faces the pool and the mini park. But then you can always take a good view from the roof deck of the third building.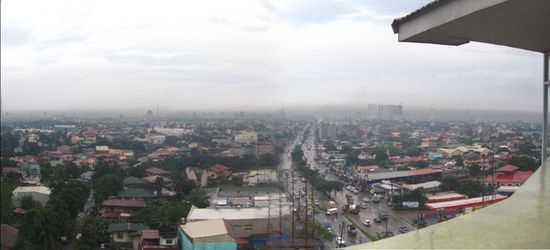 A view from the roof deck with Mindanao Avenue
going to SM North EDSA, Trinoma and MRT North Avenue station.
This mid-rise condo project offers more privacy and comfort of living in crowded Manila. The condo community has three buildings only. The first two buildings are seven-storey high while the third building is eight storeys.
The first two buildings are almost full. The third building opened last year, in 2011, and has a few occupants.
Limited units per floor give more breathing space to your family. You can enjoy the amenities and the open spaces with less people.
If you buy early enough in the third building, you may only have one or two neighbors for some time. You get to buy the unit of your choice!
Ask for units or corner units facing the pool. Why? You do not want to be on any other side unless you enjoy viewing the sunset and the cars passing through Mindanao Avenue. Here you can open your windows without worrying about the noise and the afternoon heat from the sun.
Affordable condominiums in Manila
Your choice of a unit depends on the size of your family and your purpose in buying a condo. How big is your family? Will it be your first or second home? Whatever your need is, you can choose from 1-3 bedroom or loft type units. A loft type unit provides a second level inside the unit. Floor size ranges from 23 to 62 square meters.
Inside a model loft-type unit.
Money is always a concern in buying Manila real estate. Other condo projects near SM North EDSA, Trinoma and MRT North Avenue station cost higher. Their bare units are a lot more expensive than the fully finished units of this condo. You can use your savings to furnish your unit.
Unit price starts at P1.499 Million. Cash payment works best if you have more than enough money. Otherwise, installment payment allows you to shell out smaller cash regularly. A P10,000 reservation fee locks in your chosen unit. Down payment can be as low as 10%. A lower cash-out promo applies to limited units.
Condominiums in Manila location
Location is the main factor when buying real estate. This condo project nestles in the middle of flood-free, quiet residential areas along Mindanao Avenue and Old Sauyo Road, Sauyo, Quezon City. Sauyo is on northwest of the city, a peaceful barangay outside the hustle and bustle but close enough to enjoy the comfort of city living.

View Francesca Royale Condominium location in a larger Quezon City map
The walkway bridge beside the building gives easy access to public transport in Mindanao Avenue. Bus, jeep and FX taxi get you faster to and from EDSA, the main highway in Metro Manila, and to the MRT North Avenue station. Then you can go to other places.
Do you have your own car? Parking slots are available at the basement. This is good if you are moving in since the elevators start at the basement. You can bring your furnishing directly to your unit with ease.
Going to vacation spots in Central and North Luzon is a breeze. It is 5 minutes away from the North Luzon Expressway through the NLEX-Mindanao Avenue exit. You can go to places in Subic, Bataan, Pangasinan or Baguio without passing through the heavy traffic in the Metro.
This is Francesca Royale Condominium. Units are fully finished, affordable and near to the center of Quezon City. The developer has close to 30 years experience in building quality and affordable homes for Filipinos. This mid-rise condo project offers alternative to high-rise, more expensive condominiums in Manila.
Use this form for questions you may have about this mid-rise condo.
Like this page?