What Pinoys Abroad, Overseas Filipinos
Miss About The Philippines
Pinoys abroad or Overseas Filipino Workers (OFWs) and immigrants left the Philippines in search of a better life for themselves and their families. You left because of better jobs abroad, or because of your marriage. Either way, you now have a 'home' other than the Philippines.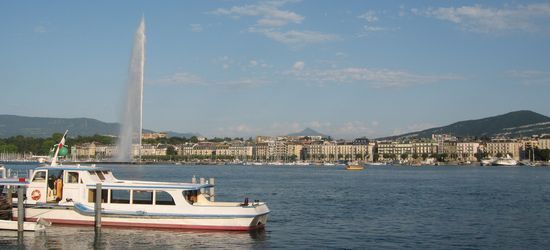 The giant water fountain (Jet d'Eau), Geneva, Switzerland, August 2011.
But you remain in touch with your relatives in one way or another. You have likely visited the Philippines at least once since you went abroad. Or you are planning to take your first vacation here.
And that's because you miss some things about the Philippines. You may think the country is not perfect. But when you are away for some time you learn by heart what you like best about the Philippines. It's just like bringing childhood memories back to life!
Use the form below to share what do you miss most about the Philippines.
Pinoys abroad miss summer in the Philippines
Weather in the Philippines is unique. Do you remember the burning heat of the sun during summer? There is nothing like it, isn't it? If you are in the colder part of the world, being in the Philippines at this time of the year is a relief. You only have to wear thin layer of clothes!
The cold weather in Baguio City makes it the favorite during this time. Despite ongoing developments and damages by typhoons, Baguio still retains its charm. Who would not miss the view of the mountains at Mines View Park, strolling at Camp John Hay and boating at Burnham Park?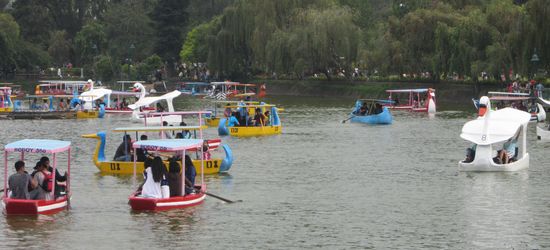 Boating at Burnham Park in Baguio City, November 2012.
Beaches in the Philippines are favorites also, with Boracay topping the list. This place has the best beaches in the planet. If you've been there, you know what I mean. Or go there. Nightlife makes it more exciting to enjoy the sea, the moon and the stars.
Pinoys abroad miss traditional Filipino foods
It is not easy to get Filipino foods during meals and merienda abroad. Adobo, lechon, kaldereta, paellas, siopao, danggit and other dishes are uniquely Pinoy. And special occasions and Christmas in the Philippines (including Manila) are the best time to indulge with traditional Filipino foods.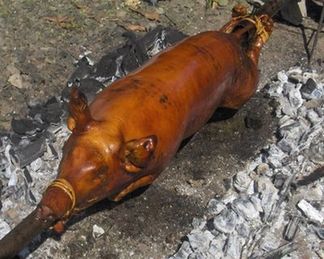 A Roasted Pig or Lechon
Photo credit: Arcade/en.wikipedia.org
Not all Philippine fruits can be had in most places. Your hometown may be one of the places where you don't need to buy them.
You just have to climb and pick them! Even the seasonal mango can now be had for most times of the year.
Ripe mango eaten with 'suman', sticky rice wrapped with banana or coconut leaf, is perfect for the palate! Of course you know there is kakanin, puto, bibingka, latik (different rice cakes). You have one or more kakanin in every 'handaan' (gathering, party or occasion).
Pinoys abroad miss about hometown
I know there is no place like hometown. It is where we learned our first language, where we built our dreams. My hometown holds some childhood memories that want me to go back in time, or sometimes forget about the past.
A hometown is a small place where everybody knows everyone. Can you remember the last time you were there? I'm sure you still imagine people showing their widest smiles whenever you met them. Later, you asked your family who they were.
But when in other places, we always ask a Filipino 'Taga saan ka?' (Where are you from?) or 'Anong probinsya mo?' (What's your province?). Because we tend to connect more easily with those coming from our hometown.
You may be living in other parts of the world but one thing remains - there is always something that Pinoys abroad or OFWs and Filipino immigrants miss most about the Philippines.
And I'm curious about you...
As A Pinoy Abroad, What Do You Miss
Most About The Philippines?
Every OFW or Filipino immigrant has something they love most about the Philippines. What is it that makes you want to cry or just drop everything and fly back home sometimes because you miss it too much?
What Other Pinoys Abroad Miss About The Philippines
Click on the links below to see other OFWs' and Filipino immigrants' stories. They were all written by other visitors to this page...

Pinoy Childhood In The Philippines
What I miss most about the Philippines is my childhood. I was 2 months shy away from my 12th birthday when my family moved to the UK. I didn't think much …
Pinoy Abroad Misses Home and Family
I miss the cold, running clear water in the river. Every afternoon, I loved to visit the river bank and dip my feet inside. Oh good gracious! While writing …
Like this page?