Christmas In The Philippines:
Explore Manila's Known Secrets
Christmas in the Philippines is for kids and family and (Metro) Manila provides fun and cheaper ways to spend time together. Discover light and sound shows and festivals and share them here. And if you just arrived as an Overseas Filipino, this is your chance to find the best selling Christmas toys for the kids.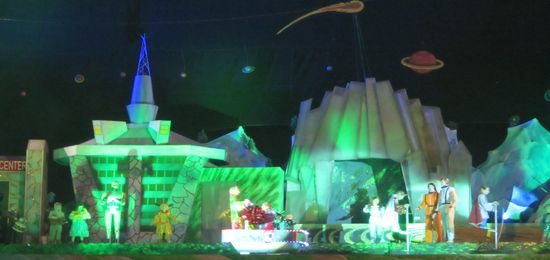 A scene at Greenhills Shopping Center's COD show.
The COD (Christmas on Display) show at Greenhills Shopping Center in San Juan moves mannequins to life.
COD tells the story of Christmas in lights, sound and music and dance. The theme varies every year but it remains focused on the birth of Christ.
The 2012 theme is "Christmas on Planet Greenhills". The show runs every 30 minutes nightly until January 6.
While waiting for the show, you can take the kids around and check the stalls for cheap items. Garment products are common but you can also find toys and accessories for kids.
You just borrow Christmas gift wrapping ideas from a Filipino gift shop later on.
SM Mall of Asia delights mall goers especially children with the Grand Festival of Lights. This features larger-than-life toy and other characters and creative themed-floats at 6pm on all Saturdays of December. In between floats are dancers and performers in colorful costumes. The show will keep your family busy until the bursts of fireworks at 7pm.
Ayala Triangle Park in the middle of Makati offers your Christmas in the Philippines a Christmas lights and music show. The show starts every 30 minutes from 6 to 9pm daily. Take one of the benches in the park and look at the faces of your children as the lights dance with the music. The park also offers children a good playground to play with other children.
Another fun place to go is Bonifacio Global City (BGC) where kids can play with Santa and his gang. But wait. This real-time interaction happens on a huge LED screen, 9ft x 15ft, made possible through a computer-generated video play. Catch Santa from 7 to 8:30 pm daily from December 2-25 at the Bonifacio High Street Activity Center.
After playing with Santa, delight the kids with a walk or drive around BGC. The Symphony of Lights contest dots the skyline with colorful lights coming from the tower cranes and overhead street protection of buildings under construction.
Warning: Allow extra time since traffic in Manila tests your patience starting on the second week of December. Filipinos tend to enjoy Christmas rush so expect heavy traffic. It could be one of the worst Christmas gifts for your family. Other than that, there's nothing like Christmas in the Philippines.
Like this page?