MoneyGram Locations
For OFWs and Overseas Filipinos
MoneyGram locations in over 190 countries with a network of 284,000 local agents provide an option to send money to the Philippines. Overseas Filipino Workers and immigrants can make fast money transfer abroad in 10 minutes, says its website. So where can you find MoneyGram agents? Let's find out...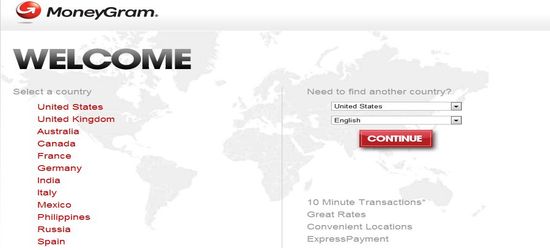 The MoneyGram website, your gateway to send money to the Philippines
Go to MoneyGram website, www.moneygram.com, and choose your host country. If your country is not listed on the screen, you have to choose it from the drop down menu on the right side.
You can also look for MoneyGram Canada, MoneyGram UK and so on for your foreign money transfers.
Sending money from the United States or the United Kingdom allows you to send money online or find an agent location. For other countries, click FIND US at the upper right hand corner to find agents near you.
Enter your city or zip/postal code for more exact results and select your country. Tick Send Money as service to find locations near you. It will return...
MoneyGram locations abroad
The search results return Google map with the name of agents on the right side. It is a directory complete with MoneyGram phone number of agents, address and contact info. The View Hours link shows the days and opening/closing hours of the agents.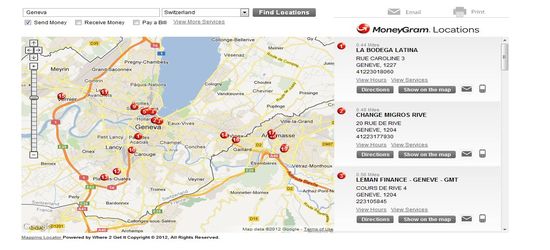 MoneyGram locations search results
What if there are no agents in your city? Try searching nearby cities. Searching for agents from nearby cities is also good if you live far from the city center. Then you choose the agent to make your MoneyGram money transfer.
You need to go to the agent. You cannot send money online with credit card or transfer money from credit card. It is not possible to send money via internet through the website. You can send money online if you are sending money from the US or the UK.
Complete a simple 'send' form from the agent. You may also include a free 10-word message on the form. Give the money you want to send and pay the transfer fee. Check the reference number and give this to your recipient.
MoneyGram locations in the Philippines
MoneyGram agents in the country include branches of Banco De Oro, SM Mall, Cebuana Lhuillier, Allied Bank, RD Pawnshop, M. Lhuillier, SMART Money and many more partners. The MoneyGram sign displays in many other locations.
Select PHILIPPINES as country and use the same FIND US link for agents. Again, include the city or town or zip/postal code for more exact results. Select Receive Money as service this time. The same Google map for results will show the agents, in the Philippines this time.
The payout money is usually in Peso, the Filipino currency. But try to compare Dollar/Peso rates just in case you get the money in foreign currency. Then tell your recipients to get the money from the agent with the best exchange rate near their location.
I have not tried this service. I do not know how it compares with Western Union rates and fees. It claims to make fast money transfer in 10 minutes so you can send money fast. And perhaps some MoneyGram locations are nearer you or your recipient.
Like this page?