The Philippine Overseas Employment Administration (POEA)
The Philippine Overseas Employment Administration or POEA runs the overseas employment program. It seeks to protect Overseas Filipino Workers or OFWs, regulates private recruitment agencies and approves overseas job listings, among other functions.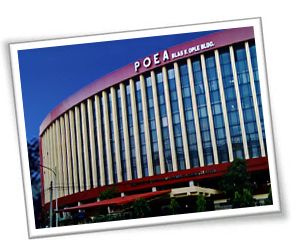 The POEA Building. Photo credit: POEA
The process of looking for jobs can wipe out your savings if you are not careful. Working abroad can make you suffer or put your life at risk. The POEA is crucial in keeping the process safe.
The POEA creates and carry out policies to protect OFWs. OFW representatives in the POEA help to ensure that way. The law mandates the POEA Board to have members from the women, sea-based and land-based sectors. They must be migrant workers nominated by their own sectors.
The Philippine Overseas Employment Administration
On Job Recruitment Agencies
The POEA issues licenses to recruit and place workers to manning agencies for seafarers and private recruitment agencies for land-based workers. These agencies should recruit workers in their offices only. An agency needs a Special Recruitment Authority (SRA) from the POEA to recruit outside of its office.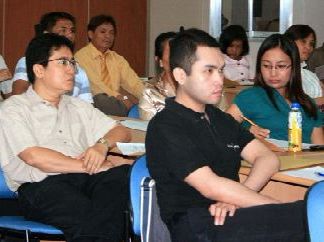 Agency Licensing Seminar. Photo credit: POEA
The POEA requires agencies to submit the names of their staff with their tasks. This applies even to healthcare and nursing recruitment agencies. You can check whether a person has the authority to recruit or not.
More and more people get work abroad with the help of agencies. The agency can help if something happens to you while working abroad. Or you can run after your agency and its foreign principal for violations of your contract abroad.
The Philippine Overseas Employment Administration
On Overseas Job Listings
Job orders or requests for workers pass through the POEA. The Philippine Embassy or the Philippine Overseas Labor Office (POLO) in the place attests the job order. Job orders are the basis of the agency or the POEA overseas job listings.
Thousands of job applicants showed up
at the 2009 Labor Day Job Fair at SM Mall of Asia.
But be careful. Always look for jobs from the latest job order. Jobs from earlier job orders may no longer be vacant. The POEA website list job orders with approved dates and balance. It shows you the remaining number of workers needed to fill a job order.
Beware of agencies that "reprocess" job orders for work abroad. "Repro" job order refers to non-existent work, work different from the actual work abroad, or work with a different employer.
What if you found a job abroad without the list of jobs at the POEA or an agency? Let's assume you hurdled internet job scams or job offer scams. That is ok. Based on the job, the POLO or the Embassy may verify your contract. The POEA will check this and other requirements.
The Philippine Overseas Employment Administration
On Protecting OFWs
The law passed in 2010, RA 10022, requires the POEA to only deploy workers in countries that protect the rights of OFWs. The Department of Foreign Affairs (DFA) certifies which countries meet this criteria.
Helping OFWs with cases. Photo credit: POEA
Illegal recruitment (IR) is a growing concern. You or someone you know can be a victim of it. POEA works with local government units and other entities in curbing IR. It conducts seminars in areas with high incidence of IR. POEA helps victims of IR file cases, prosecutes illegal recruiters and closes erring agencies.
To further protect OFWs and the public, the POEA issues advisories about illegal activities and job scams. These expose agencies or entities engaged in IR and scams. The advisories also deal with laws in other countries and other matters related to overseas employment.
For question about job orders, illegal recruitment and agency verification, processing fees and other things about overseas employment, please call the POEA hotline numbers (632) 722 1144 and 722 1155.
Working abroad improves your life as an OFW. The challenge is landing that great job abroad. The Philippine Overseas Employment Administration can help that happen.
Ask a question, share a comment about POEA
The Philippine Overseas Employment Administration (POEA) regulates recruitment agencies and verifies jobs abroad. Ask your question or share your comment about POEA on this form.
Questions or comments about POEA
Click on the links below to read about other visitors' questions or comments about the Philippine Overseas Employment Administration.
Like this page?